I love a good breakfast casserole. I have fond memories of one I used to make in my slow cooker in college - crunchy tater tots, melted cheese, sausage, and sour cream all mingled together to make the most heavenly aroma. Mmmm.
This recipe isn't quite as decadent but it is 1,000,000 times healthier and still pretty tasty (who doesn't enjoy potatoes cooked in bacon drippings?). Plus, it is the perfect antidote to a hangover - a little spice, a little grease, a little starch - serve with a side of oranges in place of a mimosa and you'll have all (ok - most) of the things you love about your typical hair-of-the-dog brunch.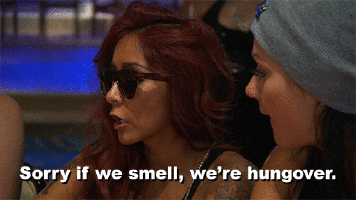 Life is about balance - with preparation, you can enjoy a celebration with friends without sabotaging your whole weekend binging on junk food. Make this dish the day before you plan on indulging in some adult beverages - you'll be less tempted to dive face first in to a pile of waffles and mimosas the next day knowing you already have a yummy meal planned to get you back on track with your healthy lifestyle.
This recipe is also great for weekly meal prep OR as a simple brunch dish for entertaining. You can even include shredded cheese or sour cream on the side if you're dining with non-Paleo folks.
Just don't skip the cilantro and extra hot sauce - I love this with Siete Foods Jalapeno hot sauce.
The hardest thing about this recipe is resisting eating the bacon while you're cooking everything else - I have to hide it in the microwave so I can stay out of it more easily!
Try it out and let me know what you think! What are some other ways you can enjoy less than healthy food/drinks without totally de-railing your lifestyle?
Anti-Hangover Casserole
Makes 8 - 10 servings
Ingredients
2 dozen eggs
1 pack of Paleo bacon (check the label and make sure it is sugar free!)
1 bag of frozen bell pepper strips, thawed in the fridge overnight.
1 medium white onion, diced (buy pre-diced if you're extra lazy like me)
12 medium to large gold potatoes (I usually just make a 4 pound bag and enjoy the leftovers with other meals)
Mandarins or Oranges
Cilantro
3 (4 oz) cans of chopped green chilis
1 (5.4 oz) can of coconut cream
Salsa and/or hot sauce (read your labels)
Guacamole or avocado slices
2 teaspoons chili powder
1.5 teaspoons salt and 1/4 teaspoon salt
1.5 teaspoons garlic powder and 1/2 teaspoon garlic powder
1 teaspoon black pepper
1/2 teaspoon Paprika
Optional: Shredded cheese, sour cream
Instructions
Preheat oven to 425. Line a large rimmed baking sheet with aluminum foil. Lay out bacon on baking sheet (try to minimize overlap). Once oven is pre-heated, cook bacon for 15 - 25 minutes. Start checking the bacon every 5 minutes at the 15 minute mark - some brands cook faster than others. You want the bacon to be crispy but not burnt.
While the bacon is cooking, scrub and dry the potatoes. Then chop them in to wedges.
When bacon is done, remove from the oven and carefully place on a paper towel lined plate. DO NOT DISCARD THE BACON GREASE. Allow the pan and grease to cool for a few minutes.
Once the bacon grease has cooled slightly, put the potato wedges on the pan. Use your hands to carefully roll the potatoes around in the grease until they are evenly coated - spread in to a single layer. Sprinkle with 1/2 teaspoon paprika, 1/2 teaspoon garlic powder, and 1/4 teaspoon salt.
In a huge-ass bowl, crack 24 eggs. Whisk until combined (as if for scrambled eggs). Add coconut cream to the bowl - whisk thoroughly and ensure no large chunks of cream remain. If the cream seems particularly solid when you open the can, consider pouring it in to a separate bowl first and microwaving for 30 seconds so it will mix with the eggs more easily.
Add thawed peppers, diced onion, 3 cans of chopped chilis, 2 teaspoons chili powder, 1.5 teaspoons salt, 1.5 teaspoons garlic powder, and 1 teaspoon pepper to bowl and mix until well combined.
Spray a 9x13 casserole dish with paleo compliant cooking spray, or wipe down with ghee. Then line the dish with aluminum foil or parchment paper - yes, we are using a double layer of protection because stuck on egg is not fun to clean.
Pour the egg mixture in to the pan. Pop on to the lower rack of the oven and put the potatoes on the upper rack. Bake for 45 minutes. You may need to add additional time in 5 minute increments to reach desired level of crispy-ness on the potatoes and ensure the center of the casserole is set.
Remove potatoes and casserole from the oven when done. Crumble the cooked bacon with your hands and sprinkle over the casserole. Top with avocado/guacamole, cilantro, hot sauce/salsa, and optional cheese or sour cream for non-Paleo diners. Serve with a side of oranges or mandarins.